Xeneta has developed a new index to describe the CO2 emissions by major container shipping companies on specific trade lanes. The index names Hamburg Sud as a hero and Evergreen as a villain currently.
Unlike the IMO's CII the index estimates CO emissions per unit of cargo, which may be a better measure for carriers to work on. It also lets Xeneta make a statement on how the line got their result.
For instance, Hamburg Sud got their good result mainly by slow steaming.
Here's what Xeneta had to say about how the index is calculated:
"The CEI methodology, she explained, is based on data from Marine Benchmark and calculated based on AIS data, including speed, combined with modelled factors, such as weather data, loading."

Source: article linked below.
We'll want to follow this CEI index over time. Over time Xeneta gives us a graphical picture of several entities on the America East Coast trade. Here we see how various carriers and consortia are able to manage CO2 emissions via the CEI.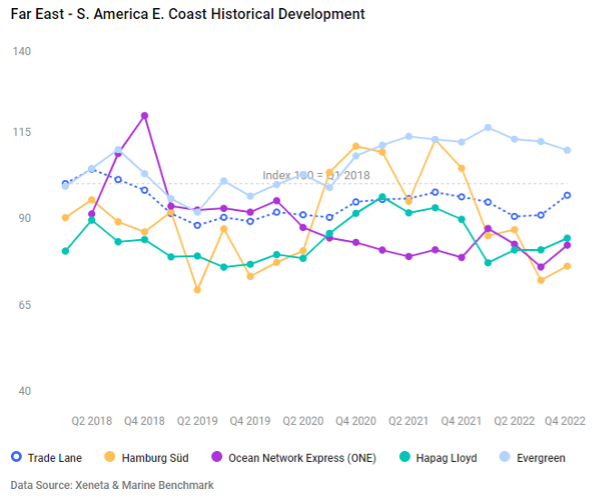 By Charlie Bartlett, technology editor 09/02/2023

Xeneta green scheme names and shames box line heroes and villains – The Loadstar