Ocean carriers are running a business in which their reliability of completing voyages planned in advance ranges around 30% to 40%. The highest reported here, by Sea-Intelligence Maritime Analysis, is Maersk at 46%. How can you run a business with these kinds of service levels?
The answer seems to be, VERY profitably. Most ocean carriers reported billions in net income.
I like this graph from the article.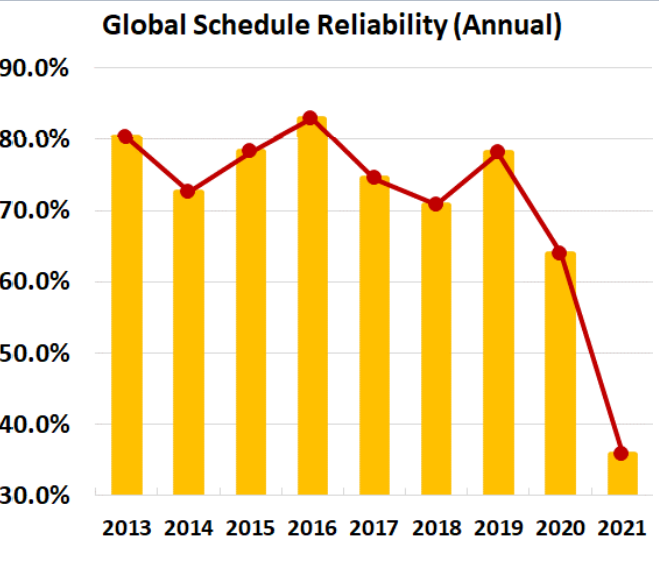 While the trend down coincides with COVID, service levels were not great even before 2019. It's due to the canceled sailings and skipped stops that are commonplace today. Port congestion has not helped.
But we can see a significant number of firms changing their level of dependency on the scheduled services offered by the major ocean carriers and the alliances,. Large shippers are buying their own ships and containers, usually of smaller size, and choosing when their shipments are scheduled, where they go, and how they get to their warehouses. Even some forwarders and brokers have started doing this. Other firms are looking for brokers who can help them find ways to get their cargo on time.
I think the large carriers have to start looking at how to improve service levels. If it means smaller ships and frequent sailings that don't get canceled, that's what it will take.
Perhaps we need feeder ships to allow the ocean carriers to consolidate multiple loads onto their giant ships for long voyages, but offload them near the destination. Years ago Al Baird, an English maritime economist, wrote about offshore container terminals, that could be used with short-range feeders to relieve the wharf pressure on our landside container terminals of today.
New thinking is needed to improve carrier on-time reliability. It won't come without effort and money. But we can't keep relying on 'someone else' to brainstorm solutions and give them a try. Especially when we're earning billions.
8 February 2022 Jack Donnelly Ports and Terminals, Shipping Lines

2021 vessel reliability recorded at its lowest ever – Port Technology International